Upcoming events, workshops & training
Curious about what we offer? Learn more about all our great programs here.
Looking for Beyond our Plate?
Beyond our Plate isn't in this calendar – it fits into your schedule. Request a workshop for a date that works for you.

Virtual Community Tables
April 27 @ 9:00 am

-

3:00 pm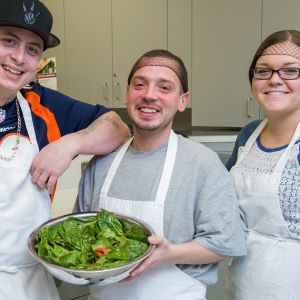 2 Day Workshop
Monday and Tuesday, April 26 and 27 2021
From 9AM to 3PM on both days
Registration Deadline April 19 2021
Staff and volunteers of community serving organizations are required to have training on safe food handling, however, there is no equivalent required training about how to serve good, nourishing food for their participants. Community Tables was created to fill that void.
A session covers everything participants need to know how to run a successful meal, snack or food program. Through a combination of presentation, peer to peer learning, and educational activities, participants will increase their ability to provide nutritious and delicious food for their clients, within the realities of a non-profit environment. Participants are given a binder filled with the information that they are learning, healthy recipes, as well as resources and tools that they can bring back to their organization.
The Community Tables curriculum is divided into 5 chapters:
A Call to Return to Healthy Ingredients: Participants are given tips around basic nutrition, learn why cooking with whole foods is important, and how to avoid sugar, salt, and fat.
Don't Sugar Coat It! Diabetes and Healthy Cooking: Facilitators review how diabetes works in the body with an interactive game and discuss how to combine foods to create diabetes-friendly meals.
We Are What We Eat. Label Reading and Healthy Cooking: Facilitators and participants discuss how to manage the intake of processed foods by learning to interpret food labels and what to beware of when it comes to food advertising.
Eat Big on a Thrifty Dime. Food Bank Foods and Menu Planning: When many organizations rely on donated foods, making creative healthy meals is a challenge. Facilitators and participants discuss cooking healthy meals using what they already have on hand and with new ideas for old favourites. Tips for planning menus that are healthy and culturally appropriate are also shared.
Read, Set, Go! Making Healthy Changes & Healthy Guidelines: Chapter five focuses on incorporating all the things learned throughout the program. Participants learn from each other and past participants to leave inspired go back to their organization ready to make changes.
$135 per participant
Registration deadline April 19, 2021. Register for this 2 day workshop (April 26&27)