Upcoming events, workshops & training
Curious about what we offer? Learn more about all our great programs here.
Looking for Beyond our Plate?
Beyond our Plate isn't in this calendar – it fits into your schedule. Request a workshop for a date that works for you.

Virtual Eat Well
April 28 @ 11:00 am

-

1:30 pm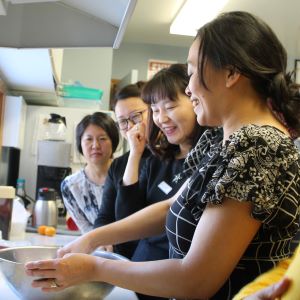 Every Wednesday
From April 7 to May 26 2021
11AM to 1:30PM
Registration Deadline April 1 2021
Eat Well is a series of 8 workshops spread out over 8 weeks. Each workshop is 2 hours and 30 minutes long and include group discussions, activity-based learning, as well as hands-on cooking components.
The goal behind Eat Well is to help community members build upon the skills they possess to improve knowledge, attitudes, and skills toward making healthy food choices. This series of workshops is for the general public and is appropriate for adults, older youth, and families attending together.
1. Introduction and Food Safety
Participants are introduced to facilitators, each other, and the program. Food safety procedures are discussed and demonstrated.
2. Healthy Eating and Plant Foods
Participants learn key points about basic nutrition and identify strategies on how to have a nutritionally-balanced meal. Participants also learn the benefits of consuming whole plant foods and how to incorporate them in meals.
3. Sugar, Salt, and Fat Are Everywhere! Part 1
Participants learn about the prevalence of sugar in our diets. Diabetes, portion sizes, and carbohydrate pairing are discussed.
4. Sugar, Salt, and Fat Are Everywhere! Part 2
Participants learn about the prevalence of salt and fat in our diets. The links between cardiovascular conditions, fats, sodium and fibre intake are discussed.
5. Healthy Eating on a Budget
Participants practice menu planning and discuss strategies for saving energy, time, and money without sacrificing nutrition and taste.
6. Packaged Foods and Label Reading
Participants learn how to interpret food labels and what to be aware of when it comes to food advertising.
7. Grocery Store Tour
Participants practice food label reading and discuss the application of the strategies that they came up with during the fifth workshop.
8. Celebration Day
Potluck and nutrition trivia activities.
$255 per participant for the entire series – Only $32 per workshop!
Registration deadline is April 1, 2021. Register here