Food Matters Manitoba invites you to a different kind of conversation about food security
Food Security Matters seeks to:
1 (re)introduce and (re)define food security, 
2 interrogate the circumstances surrounding food insecurity,
3 engage individuals and organizations in meaningful collaborative responses to the question "how can we improve food security for all people?"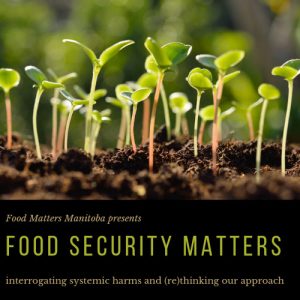 The first in a three-part workshop series, Food Security Matters encourages participants to think beyond household food insecurity and charitable responses, and rather, engage with food security as an individual experience, and one that is unique to each person. In doing so, participants are prompted to challenge food insecurity as 'individual failure' and rather, interrogate disproportionate systemic oppression and harms. 
Is it for me?
Intended as an approachable and informative starting point for all (youth and adult) audiences, this workshop curates a space for critical reflection, while respecting and honouring our complex individual and cultural relationships to food.
How does it work?
Created as the introductory component of an ongoing and necessary food security conversation among Manitobans, this 90 minute workshop aims to connect individuals and organizations with resources, mentorship, and others seeking to do the same important work.
Included in the workshop:
pre-emptive questionnaire, allowing Food Matters Manitoba to ensure the workshop can be tailored to meet the needs of your audience, 
a host of resources, 
guided access to our Food Action Hub through a private Food Security Matters Group,
ongoing support from the facilitator.
Subsequent workshops in this foundational series will be created in response to feedback and input generated by Food Security Matters workshop participants, but will ultimately focus on capacity building and contextualizing, and the action planning and implementation of participant-driven food security initiatives. 
Note: Food Security Matters is currently offered online