To see a complete list of the resources on this page open the "Table of Contents".  Clicking on any title will take you to the resource (for viewing or download.)
Here you will find recent Food Matters Manitoba videos and their accompanying print resources.
See Print Resources for reports, posters and other materials.  A more extensive library of resources is available through the Food Action Hub.
Food Insecurity in Manitoba Videos
Closed Captioned (English)
Food Insecurity in Manitoba, is a series of 3 short videos (5 minutes each) focused on Experiences, Causes and Solutions to food insecurity in Manitoba. 
Using a montage of voices, the videos provide a snapshot of some of the systemic barriers to accessing safe, nutritious and affordable food, some of the practical things people are doing to meet their needs, and some suggestions for what can be done to create long-term change.  The faces in the videos reflect the diversity of experience and wisdom found in Food Matters Manitoba's provincial wide network of front line community serving organizations.
The Food Insecurity in Manitoba videos are part of a larger Food Matters Manitoba project, Our Food Our Health Our Culture (2011 to 2020) supported by the Public Health Agency of Canada.  The project enabled work with vulnerable populations, the organizations serving them, community leaders and policy makers, all aimed at building capacity in the province to address food insecurity.
One set is closed captioned and another has French sub-titles. 
Insécurité Alimentaire3 Vidéos
Première partie : Les expériences
Deuxième partie : Les causes
Troisième partie : Les solutions
Food Insecurity Infographics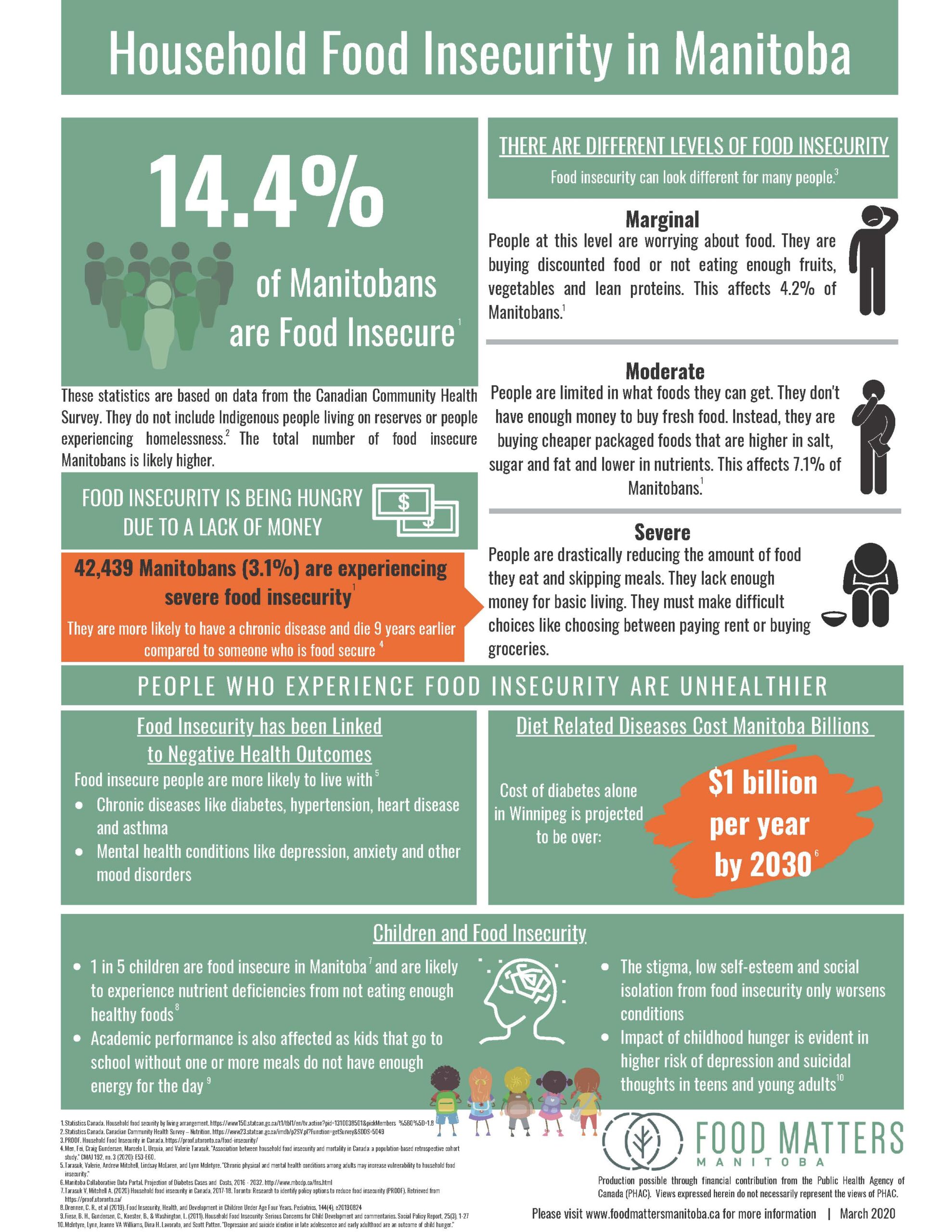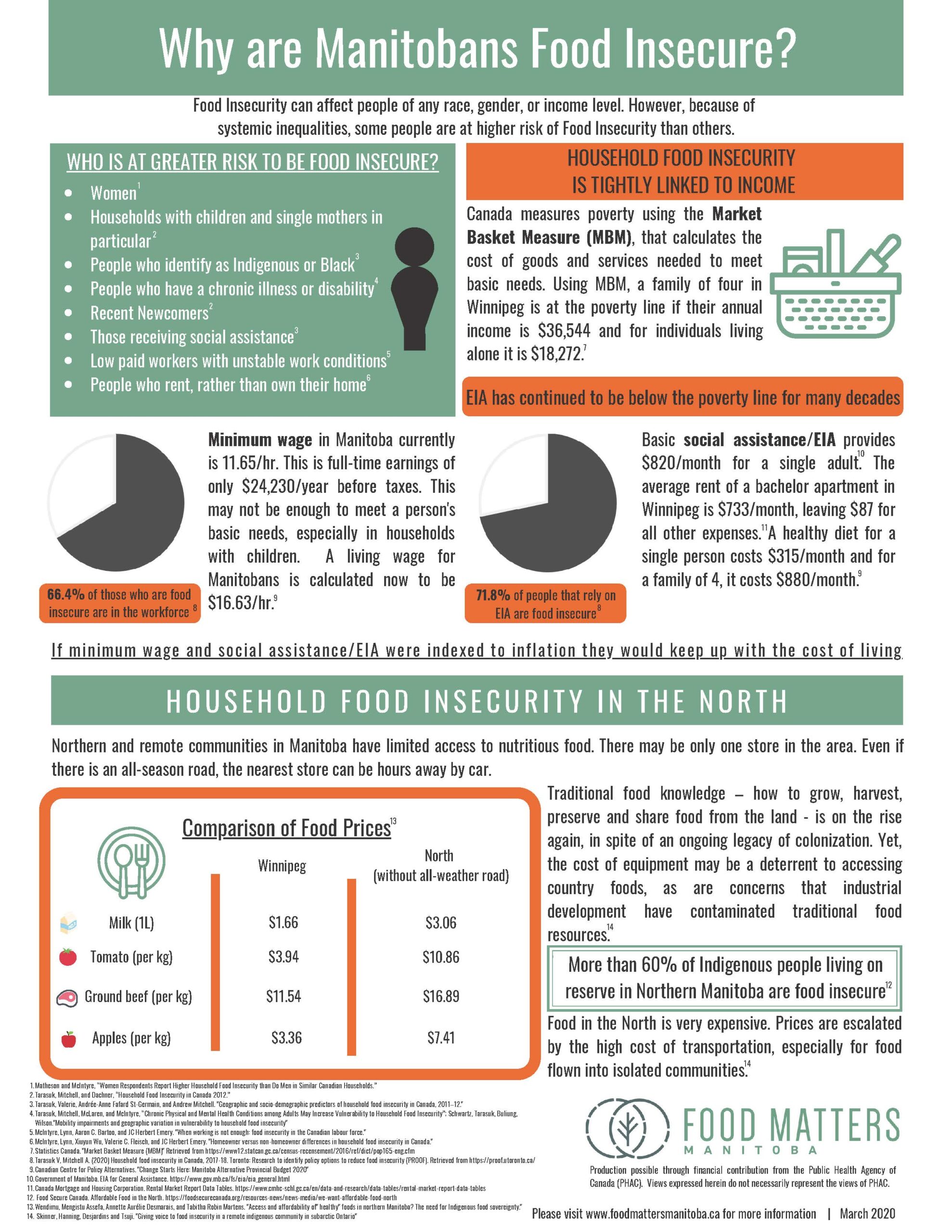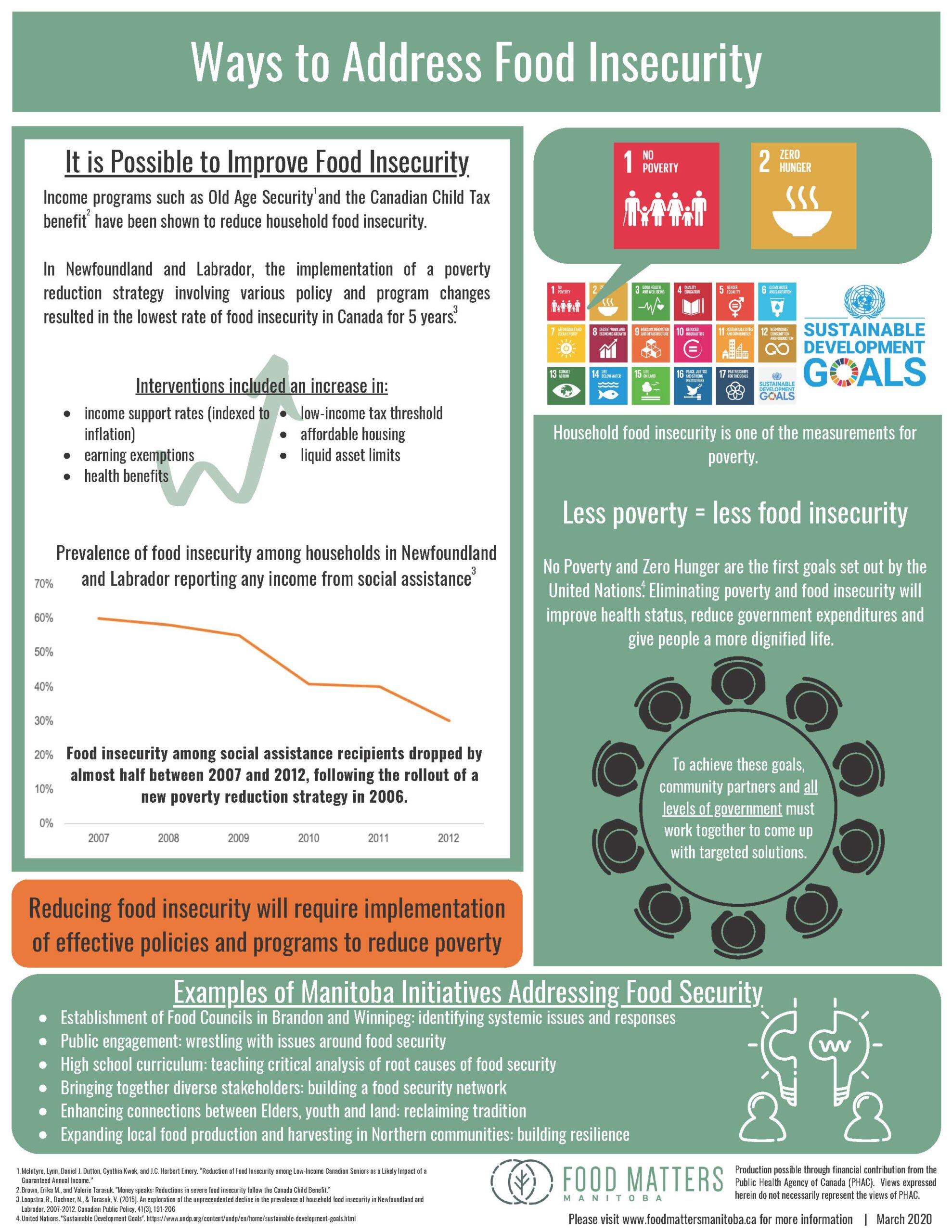 Infographie sur la Insécurité Alimentaire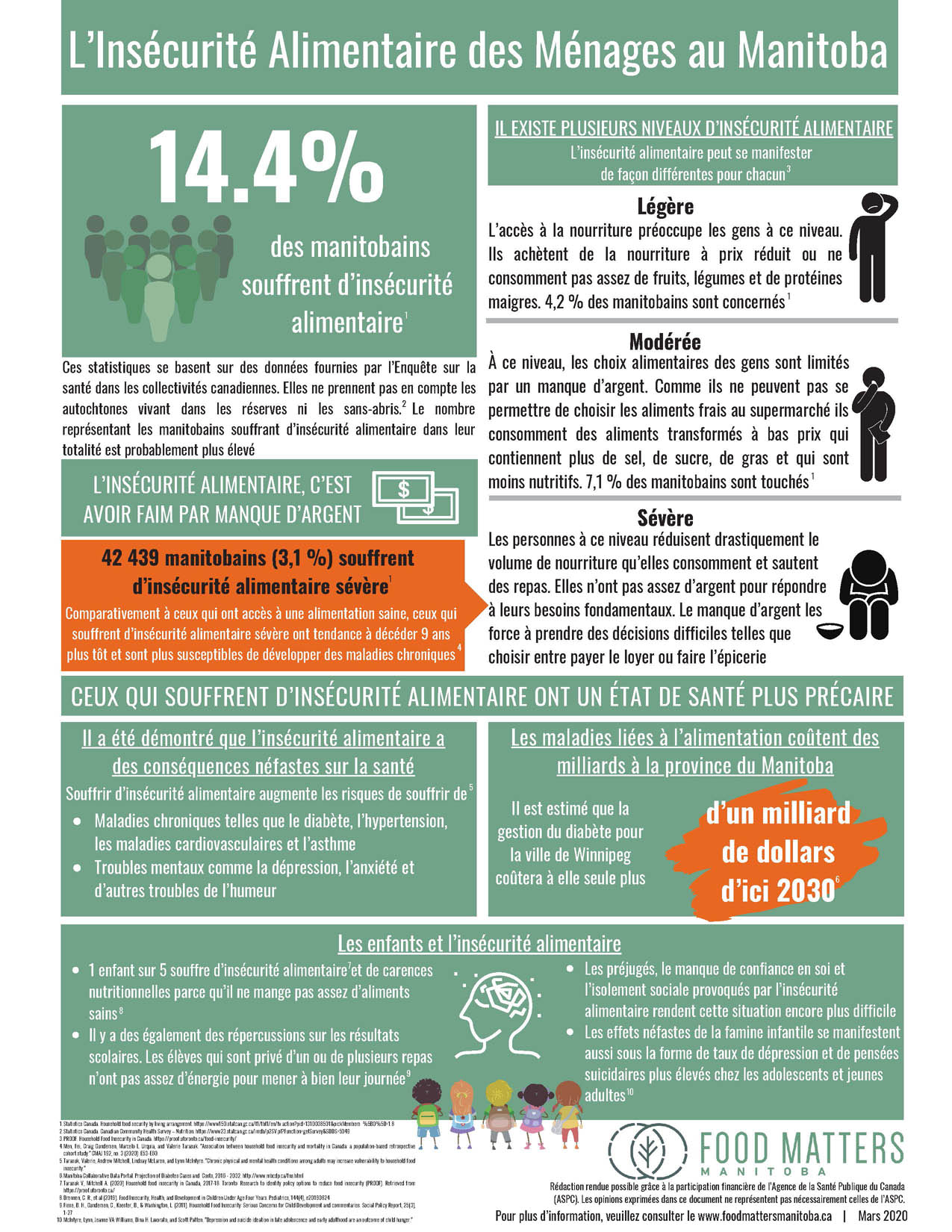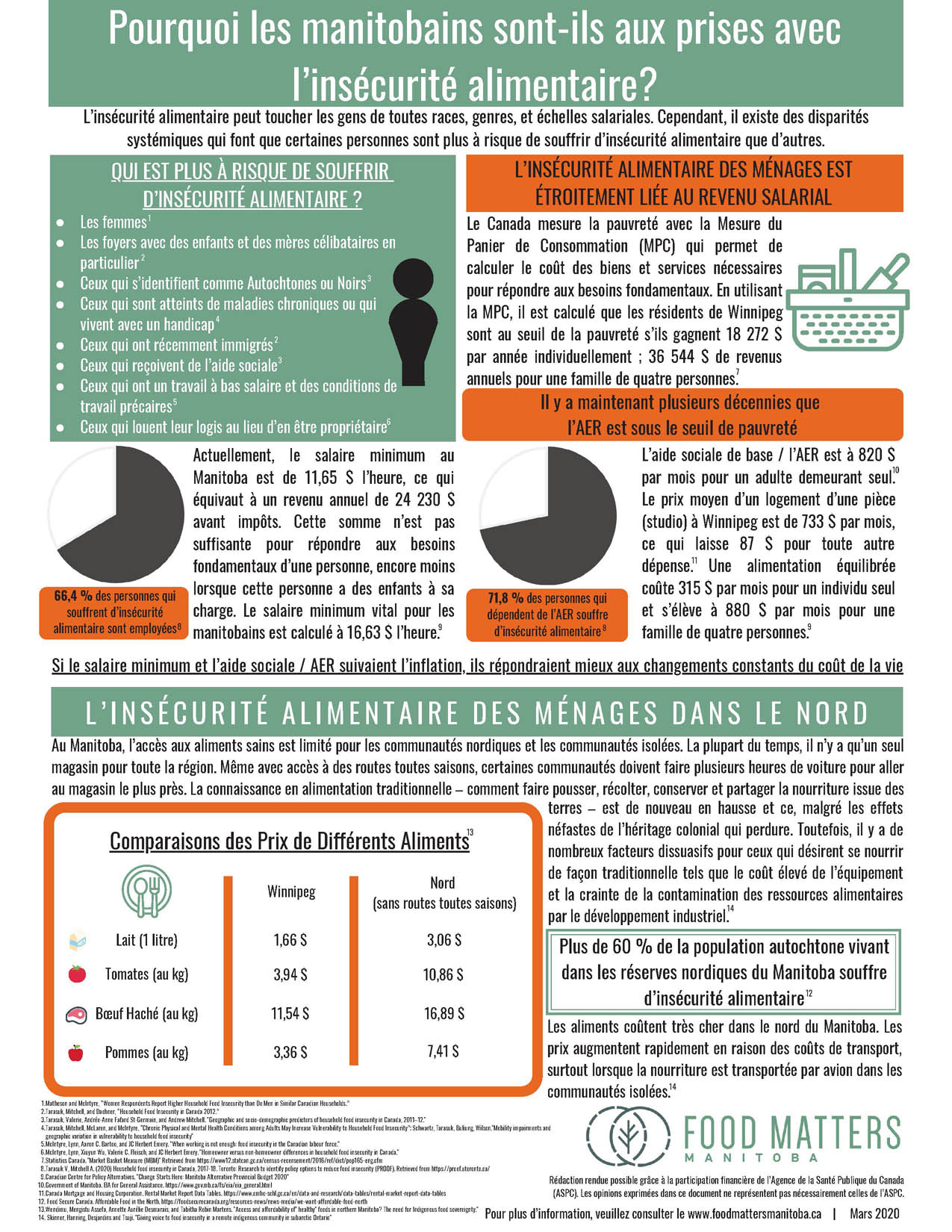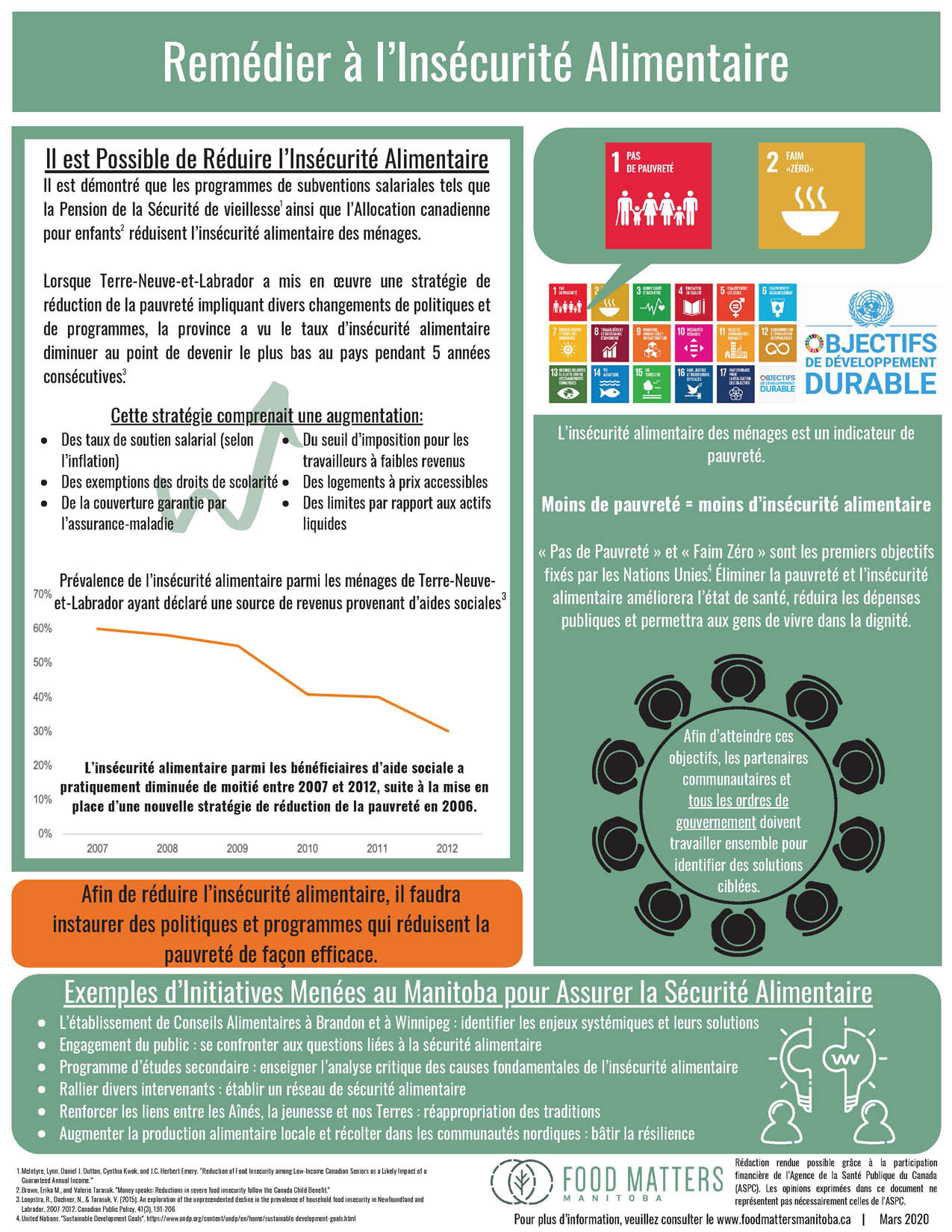 Journey to the North (5:55 minutes) documents Food Matters Manitoba's 2019 Northern Youth Gathering through the video lens of Jacob Bird, one of the young Indigenous participants.
Through Jacob's reflections we learn about the land based activities the young people experienced. Among them are skinning a lynx, building a shelter, catching fish. We also get an understanding of the impact the program has on shaping a generation of leaders who will address food insecurity in their communities.
Colonial and racist policies and attitudes continue to negatively impact Indigenous communities. Recovering traditions and accessing culturally appropriate foods is a step toward redressing discrimination.
Building knowledge, skill and pride in young people is another important aspect. Deepening cultural wisdom and practices related to food (harvesting, growing, preserving, sharing, appreciating) promotes community and individual healing and improves availability of adequate and nutritious food.