We work both in the office and from remote locations. Click a name or the envelope icon to reach us by email.
Gender pronouns: he, him, his
Demian is driven by the Inninwuk (Swampy Cree) teachings to provide for his community of Fox Lake. Learning all he can from the land and the Elders, he spends much of his time harvesting from the land as dictated by the seasons. Demian has been committed to passing on these lessons and skills to the next generations, doing work with his community's youth and the schools to achieve this goal. Now with Food Matters Manitoba, Demian is focused on helping other communities share their knowledge with their youth.
Gender Pronouns: She, Her, Hers
Having come to Canada as a child and Winnipeg as an adult, her experience and relationship with food is diverse.
She has been involved with a number of non profits over the years as both a volunteer and at the management level and understands our connection to food as both a fuel and a manner of sharing and celebration.
Debby is excited to be working with Food Matters to improve food security for all people living in Manitoba.
Gender pronouns: he, him, his
Myles, a recent agricultural business graduate with an ever-growing passion for gardening, foraging, community, and food. These passions have stemmed from years working with youth programs, volunteering with community gardens, non profits, spending time in nature, and learning from the environment around him. He also loves to cook, play sports, and read.
In the position of Northern Facilitator, Myles looks forward to applying his knowledge towards helping communities with food security and food sovereignty while developing a deeper understanding of northern communities, their traditions and teachings.
Gender pronouns: she, her, hers
French, English
Ever since she was little, Myreille has been passionate about food and how it brings everyone together. She is from Quebec but for the last decade has lived overseas and in Winnipeg, where she completed a BSc in Human Nutritional Sciences at the University of Manitoba.  The work that Myreille does at Food Matters  is very dear to her as she is eager to help others develop a positive relationship with food, whether it is through increased access and availability of food, or through increased access to the information that people need to have a more balanced and nutritious diet.
Social Innovation Manager
Gender pronouns: he, him, his
Yoni recently graduated from the University of Manitoba with a Bachelor's Degree in Food Science. During his time at school, he served as the Food Science Representative on the agriculture student council and also helped establish the new University of Manitoba Dairy Club. Yoni focused his university research project on improving water sustainability of the dairy industry with an exploration on whey fermentation, and hopes to build upon these efforts in the future. During his education, Yoni also worked for a non-profit STEM organization called WISE Kid-Netic Energy, where he travelled to communities around the entire province leading week-long day camps for children aged 8-13.
Coming from his recent participation in the Manitoba Legislative Internship Program last year, Yoni also gained insight into how policies are legislated and how government systems can function. Yoni hopes to use all these combined experiences to aid in expanding access to food security information and resources to support our community partners and organizations. In his free time, Yoni also loves to cook and bake, tend to his small herb garden, and play the violin.
Social Innovation Coordinator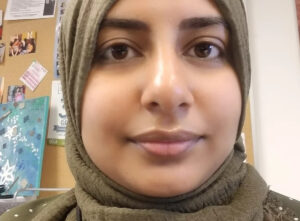 Gender pronouns: she, her, hers
Nikhat has a Bachelor's degree in Psychology and Political Science. She has always been curious about human behaviour and how evolving forms of governance shape the world. 
Nikhat has spent the last several years working with various non-profit organizations. She is passionate about social justice and creating a world where everyone receives equal economic, political, social, and cultural rights and opportunities. She wants to use her use work experience, passion for social justice and lived experience as an immigrant woman to further conversations regarding food security. She believes that for actualization of real progress, access to resources, equity, and human rights are imperative. 
Education and Engagement Facilitator
Our office is located at 422 Notre Dame Avenue in Winnipeg, Manitoba.
In addition to the core staff team, students from a wide variety of programs complete practicums and internships at Food Matters and they are an important asset to our work.