We support partners with resources such as equipment and materials so that they

can

build the infrastructure required for their

traditional harvesting

, ceremony,

and

agricultural

project

s. This inc

ludes but isn't limited to greenhouses, farm

structures

, and camps.

 
Infrastructures are

currently

supported

in the following communities:
We helped build some hunting cabins near Pikahokan Sakahikan (Angling Lake) that harvesters can use as a base for local fishing expeditions.
We helped provide building supplies such as wood to furnish Norway House's Culture Camp with additional cabins and Norway House's Fishing Camp with a bush garden.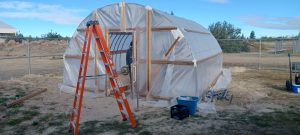 Lac Brochet currently has two greenhouses in the community. One of the greenhouses was built in partnership with our organization, our Northern agricultural specialist, and community partners during the summer of 2022. It is currently located beside the Lac Brochet Health Centre and is used by our partners to support the local food system with indoor edible plants.